St. Patrick's Day Party Lead To a DUI? Here's What to do Next
It's that time of year for the much loved and anticipated St. Patrick's Day party and the fourth most enjoyed holiday for drinking in the country. While everyone is enjoying their evening drinking their green beer and enjoying plates of corn beef and cabbage, some will not be as fortunate with their luck the day after the party ends. Some people will go home with a DUI. To learn more about DUIs, go here.
St. Patrick's Day DUI Statistics
Over 32 million people claim to be of Irish descent in the United States and every year, 29% of the American population will visit a bar or restaurant to celebrate the Irish holiday. And while the statistics say that 3/4 of drunk drivers involved in a fatal crash have drunk over 2x the legal limit, people still choose to drink and drive. And that choice has the power to alter their lives in terrible ways. To see more stats on DUIs in America after St. Patrick's Day, take a look at the infographic below.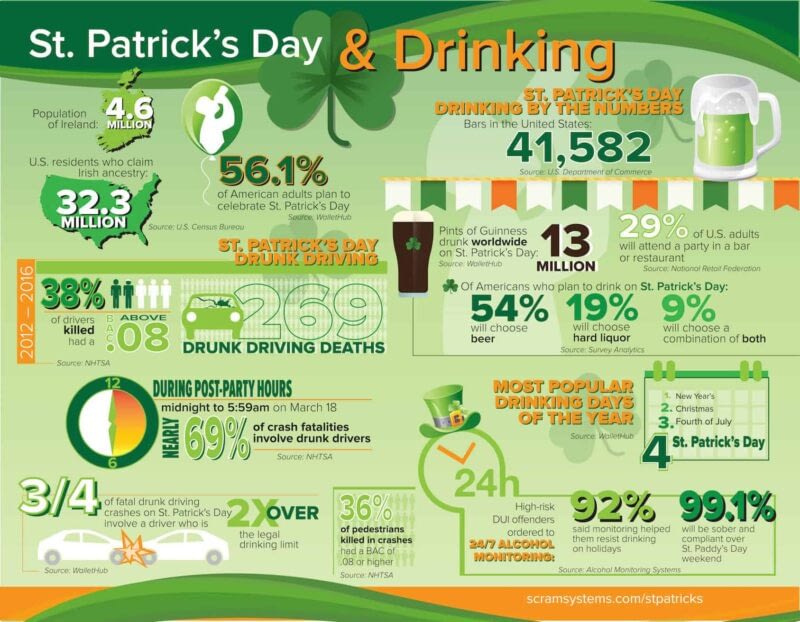 Know The Legal Limit and Know Your Own Limits
The legal limit for Blood Alcohol Content (BAC) is .08%. But not every person metabolizes alcohol the same way. How your body processes alcohol depends on your metabolism, your weight, and a variety of other factors that could cause you to become intoxicated more quickly or more slowly than others. Be sure to know your body and your limits before you drink alcohol for St. Patrick's Day.
During these times, Killham Law Offices recommends that all people who enjoy these love American holidays, that they drink responsibly, eat food with your drinks, always call an Uber or Lyft if you have had a drink, or appoint a designated driver to make sure you make it home safely and make smart choices.
Charged with a DUI During St. Patrick's Day?
If you choose to drive intoxicated on or after St. Patrick's Day, you could end up in a serious car accident, that could result in the death of yourself or the death of someone else, and face consequences that can affect your life and the life of others long beyond the evening it took for you to enjoy St. Patrick's Day. In less low-level cases, you may lose your license, thousands of your hard earned money, and your precious time.
And those who have had past DUI charges could face even more severe punishment if their case is not dealt with properly.
If you are a person who is facing DUI charges or suffering from a DUI related accident during or after St. Patrick's Day in the Phoenix, Arizona area, it's important that you hire a DUI defense attorney in Arizona to help you win your case. Navigating DUI cases alone and trying to represent them yourself could cause negative results for you.
For a free consultation on your St. Patrick's Day DUI case, contact the Arizona DUI defense attorney, Killham Law Offices. We can help assess the severity of your case and how to best represent you during this difficult time and mistakes.
Don't make the mistake of representing your DUI case alone, contact us today.